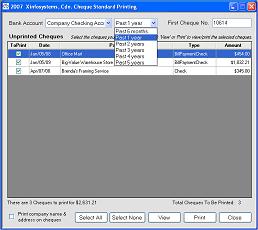 Canadian Cheque Standard Printing Application for QuickBooks®
This 2008 Canadian Cheque Printing Application is designed to work with the 2007 and 2008 QuickBooks® US Enterprise Edition to print Canadian cheques in the new Canadian Payments Association's (CPA) Standard 006 format.
This application is compatible with Windows operating systems (Windows 98/ME/2000/XP/2003).
Your Windows system should be updated with the latest free Microsoft service packs and updates. This ensures your system has the Windows components required to install and run the application successfully, including Windows Installer and .NET Framework. To update your Windows system with the latest service packs, perform a "Windows Update" by selecting the 'Start'->'Windows Update' menu item, or visit the http://windowsupdate.microsoft.com website.
Payment Information
Regular price is $4,500.00. If you have a promotional code, please specify it in the appropriate text box before clicking the payment button. Once payment is completed, you will be e-mailed a link and instructions on how to download and install the software. The e-mail address used will be the one you specify during the payment process.

You can make a secure online credit card payment using PayPal by clicking on the PayPal button below. Note that you do not need a PayPal account to use this free service.